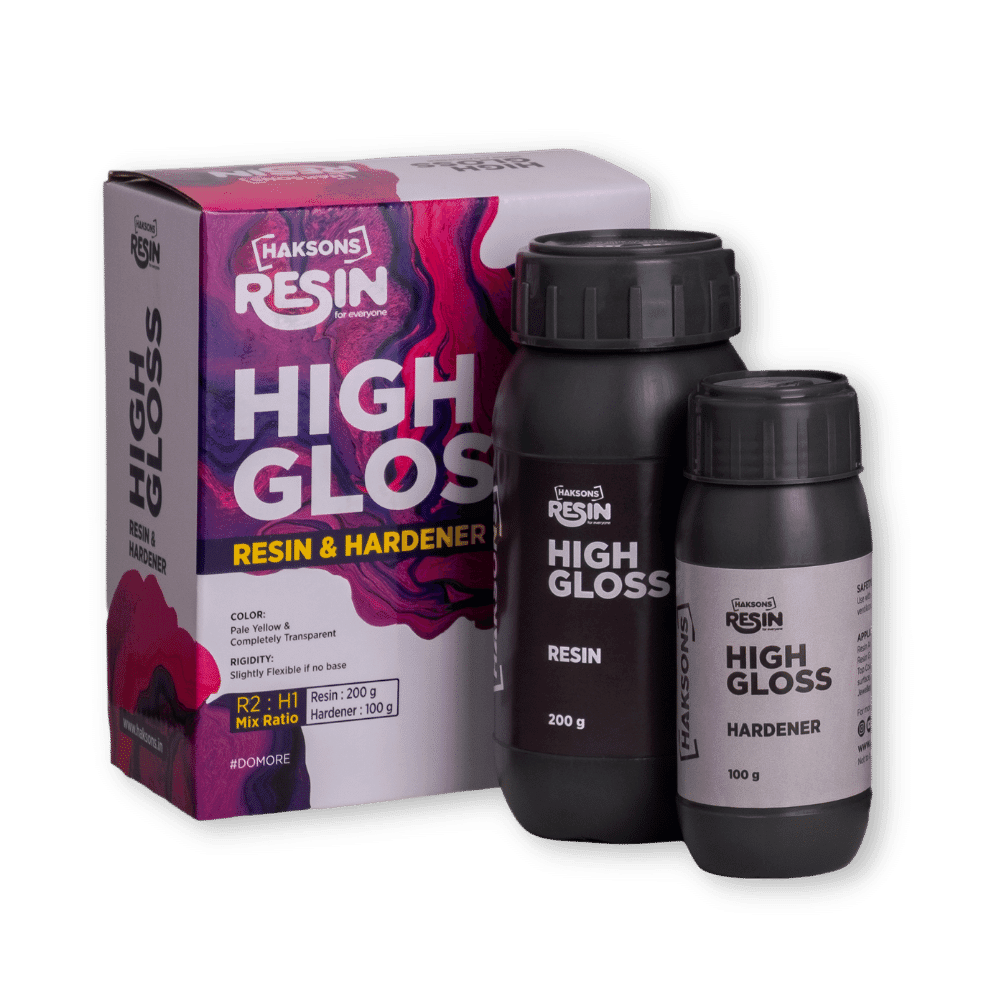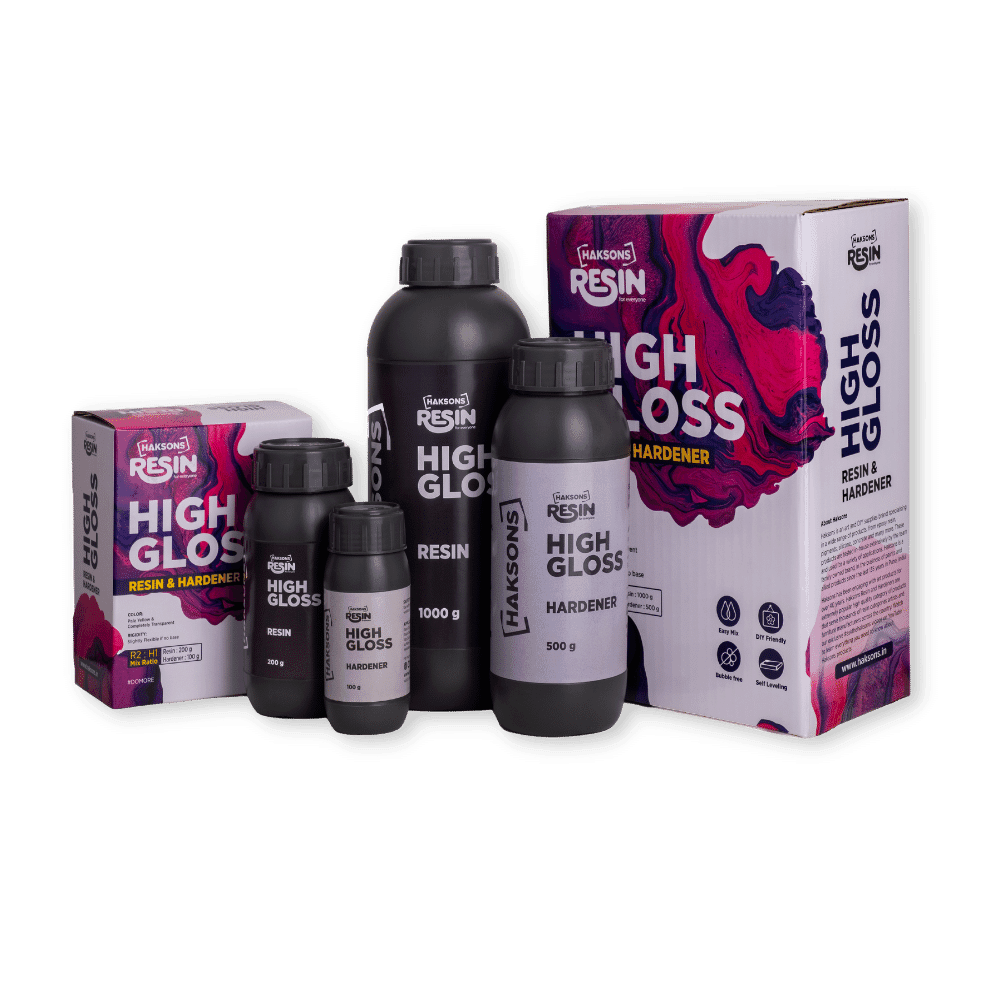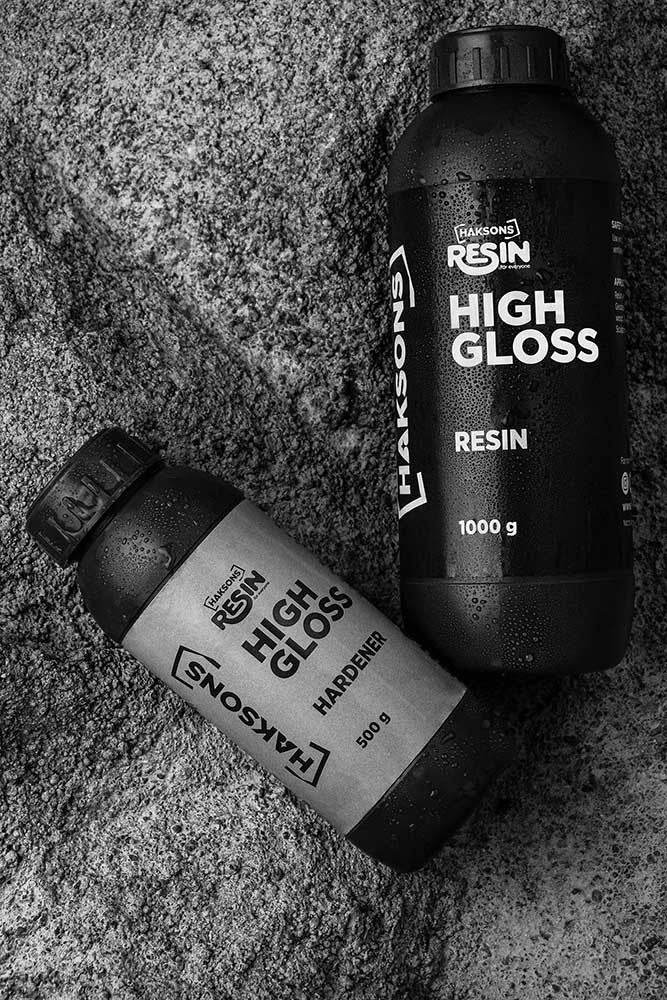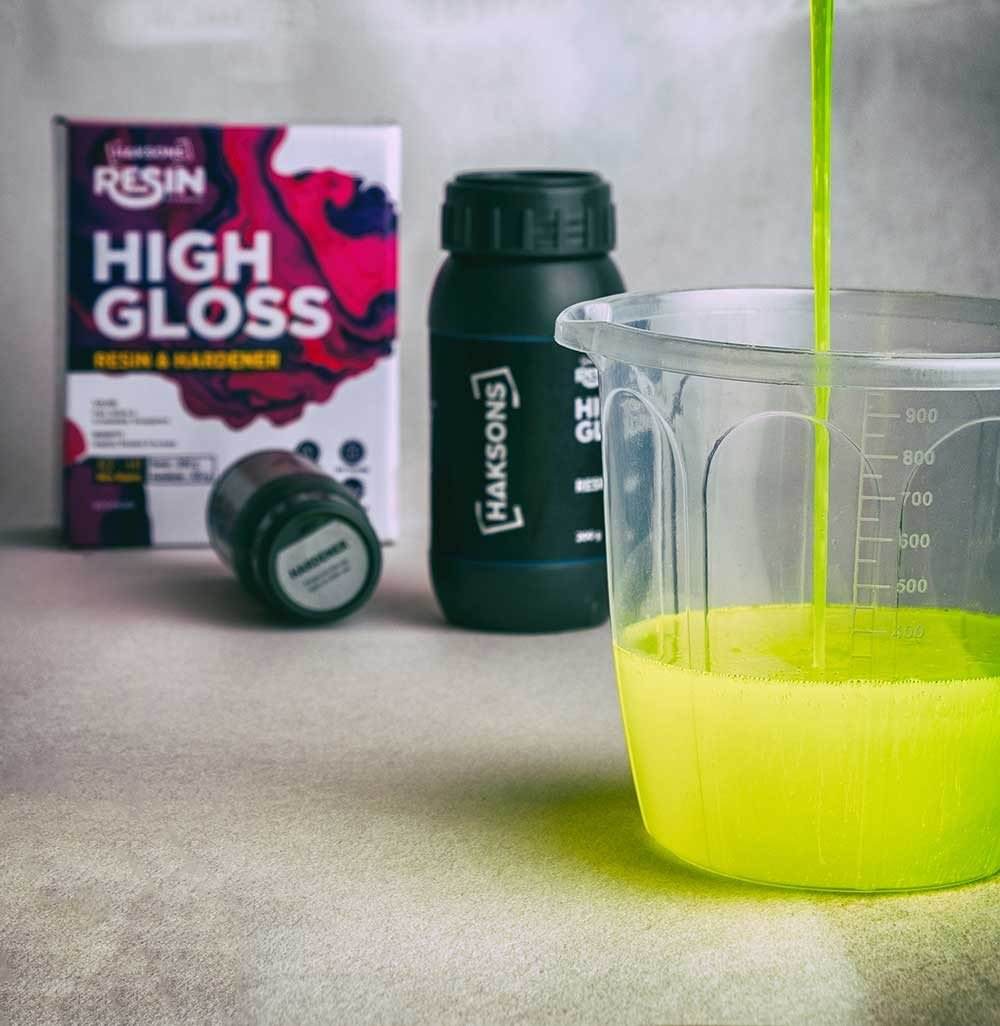 Haksons High Gloss Epoxy Resin & Hardener Coat (2:1)
---
Haksons High Gloss Epoxy Resin & Hardener is a professional-grade art resin that creates a glossy finish on a variety of surfaces. It is best used with pigments to create a wide range of colors and effects. It is perfect for coating wood, canvas, artworks and more. This resin is designed specifically for art purposes and is not suitable for casting in moulds. It has a 2:1 mix ratio and cures to a hard, durable finish that is resistant to scratches and water.
Its self-leveling property makes it one of the best in the market, allowing it to smooth out and eliminate bubbles on its own, resulting in a perfectly flat surface. It is ideal for creating stunning geodes and ocean art, as well as a wide range of other art and craft projects, including painting.

On casting in moulds, it will give a flexible / bendy result.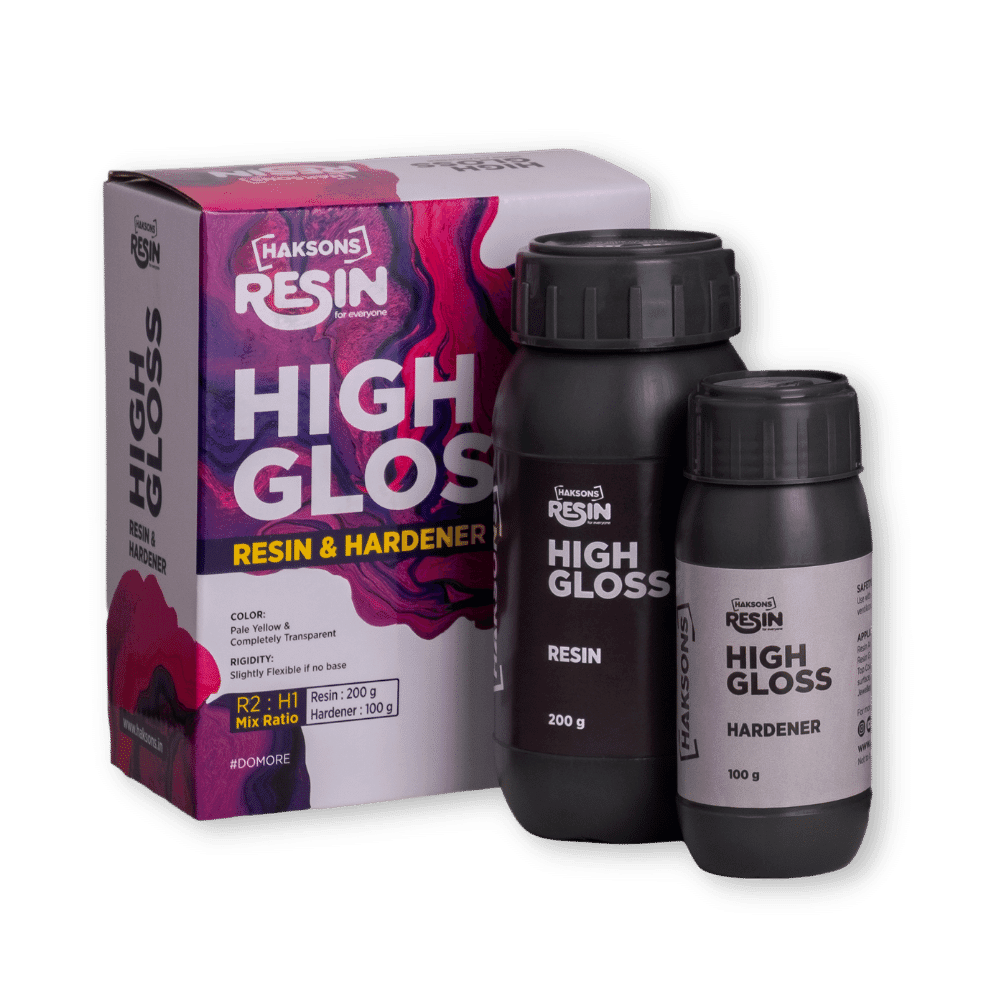 LUSTROUS
The lustrous finish of Haksons High Gloss Epoxy Resin & Hardener adds a professional, polished look to any project, giving it a shine that is sure to turn heads.
Create Stunning Art with Haksons High Gloss Epoxy Resin & Hardener
Haksons High Gloss Epoxy Resin & Hardener is the perfect finishing touch for any artist's masterpiece. Its glossy finish adds shine and depth to the piece, creating a professional, polished look. The resin also protects the artwork from scratches, water, and UV light, ensuring that it stays vibrant and beautiful for years to come. With its versatility and easy-to-use 2:1 mix ratio, this resin can be used on a wide range of surfaces and materials to create a wide range of colors and effects, making it a useful tool for artists working in any medium. Whether you're a professional artist or a hobbyist, Haksons High Gloss Epoxy Resin & Hardener is an essential addition to your art and craft supplies.
This product has no reviews yet.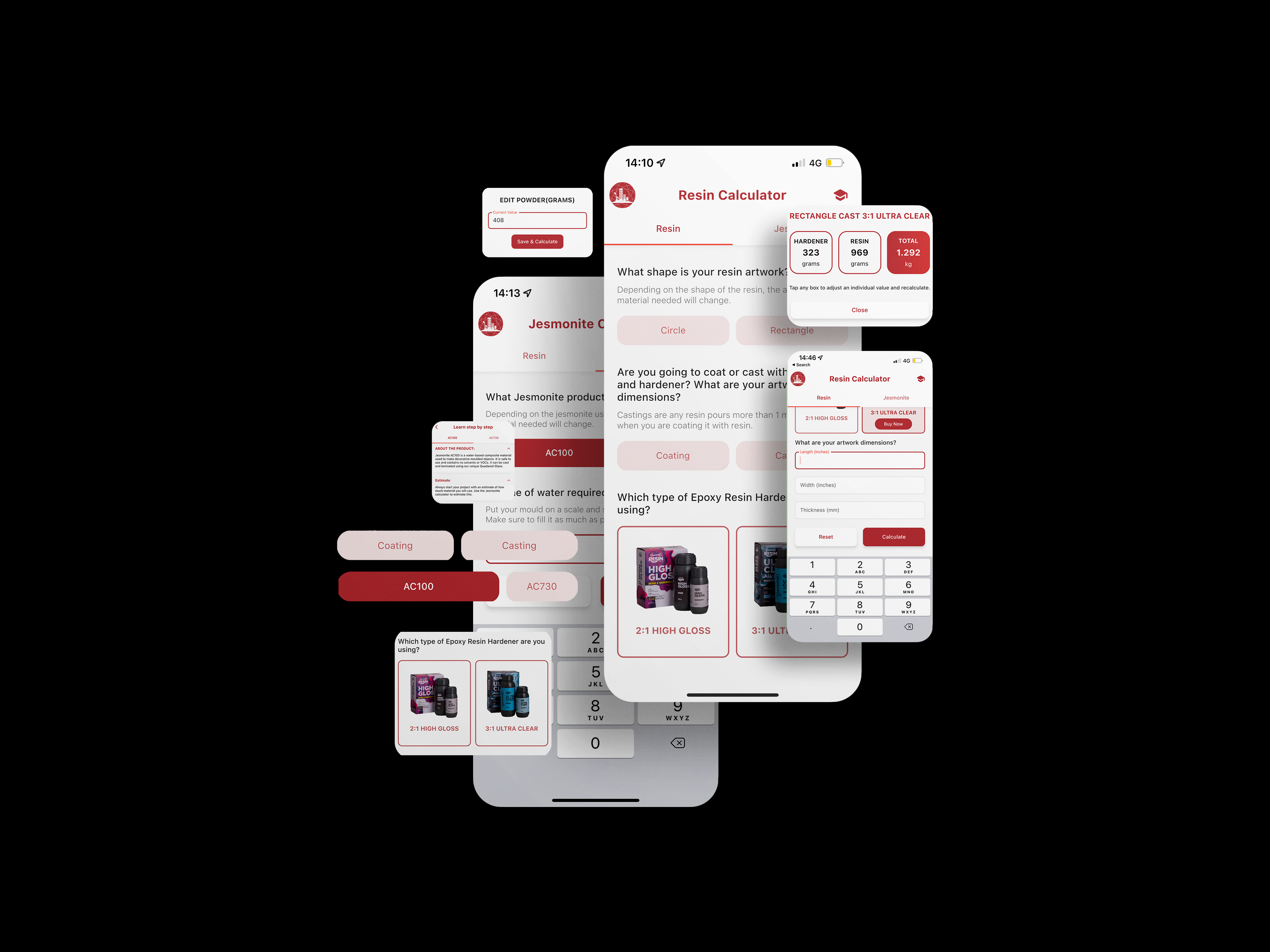 Introducing BohriAli's Resin & Jemonite Calculator
Epoxy Resin Calculator
Using an epoxy resin calculator can help customers to avoid wastage of resin, ensure a proper cure, and achieve the best results for their projects. By accurately estimating the amount of resin needed and mixing the resin and hardener according to the manufacturer's instructions, customers can save money, reduce their environmental impact, and get the most out of their resin. An epoxy resin calculator can be a valuable tool for anyone working with resin, whether they are a professional artist, a DIY enthusiast, or just looking for a high-quality finish for their home or business.
Download Now
Product specifications
Which resin should you use?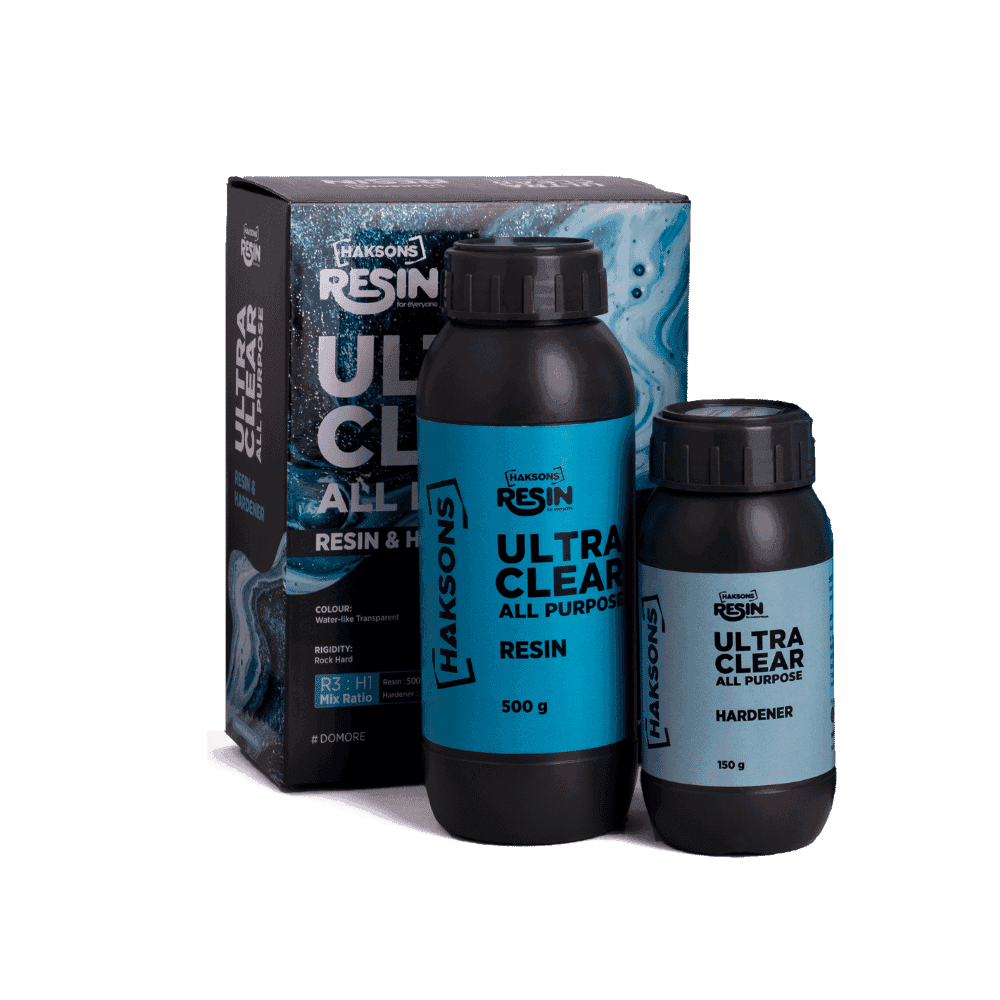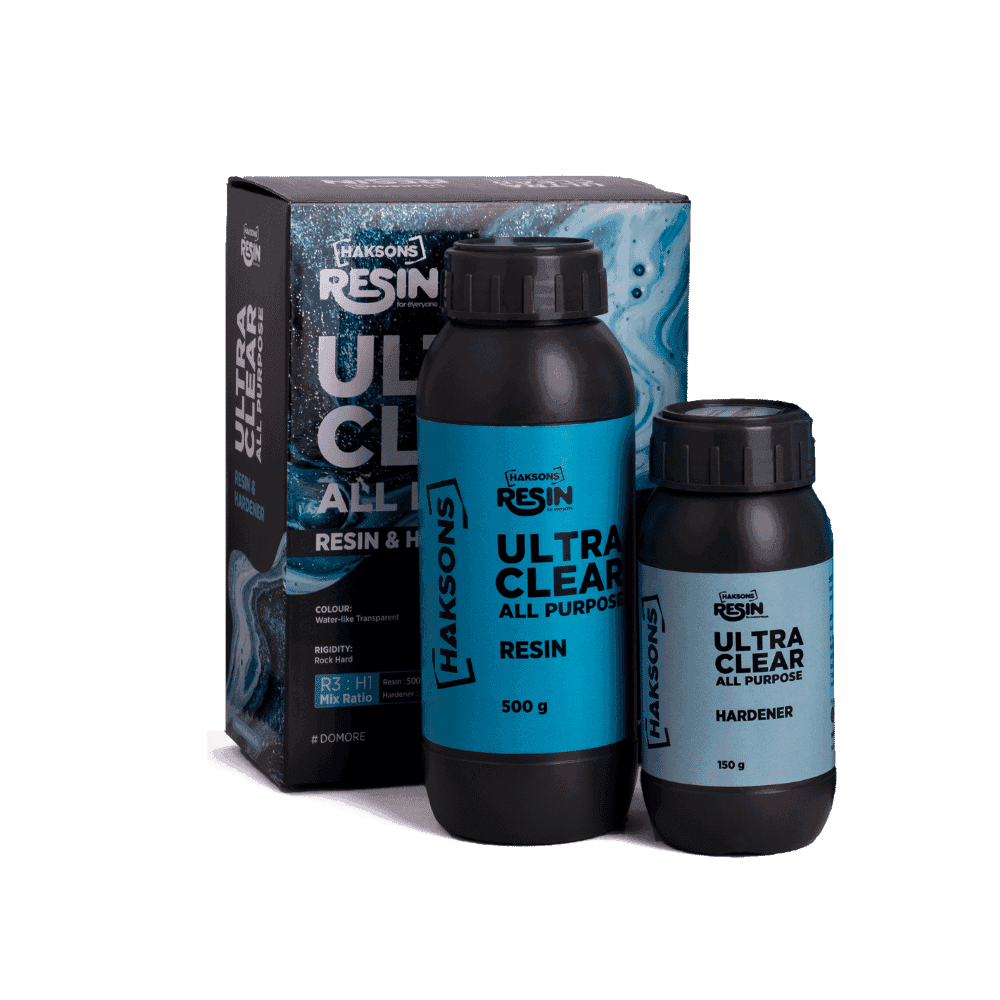 Use the pigments for best results with Haksons High Gloss
Epoxy Resin Pigments
View all
FAQs
Frequently asked questions about Haksons Opaque Pigments
How do I mix and apply the resin?

Haksons High Gloss Epoxy Resin should be mixed according to the instructions provided with the product. This typically involves mixing 2 parts of the resin and 1 part of hardener, then allowing the mixture to sit for a few minutes after stirring thoroughly. The resin can then be applied using a brush, roller, or spatula, depending on the desired result and the surface being coated. It can also be directly poured into moulds.
How long does the resin take to cure?

The curing time for Haksons Ultra Clear Epoxy Resin will depend on a variety of factors, including the temperature and humidity of the environment, the thickness of the resin, and the type of surface being coated. In general, the resin will take anywhere from 12 to 24 hours to fully cure.
Can the resin be used on outdoor projects?

Haksons High Gloss Epoxy Resin can be used on outdoor projects, but not for a clear application. It should be used with pigments!

However, it is important to note that, as with all epoxy resins, if the resin is exposed to direct sunlight for extended periods of time, it may start to yellow.
How do I remove excess resin or drips?

Excess resin or drips can typically be removed by using a scraper or putty knife to gently lift the resin off of the surface. If the resin has already cured, it may be necessary to sand or buff the surface to remove any excess resin.
Can the resin be coloured?

Haksons High Gloss Epoxy Resin is designed to be used as a clear finish, but it can be colored using resin pigments or dyes. It is important to follow the manufacturer's instructions and to use only high-quality, resin-safe pigments or dyes to ensure the best results.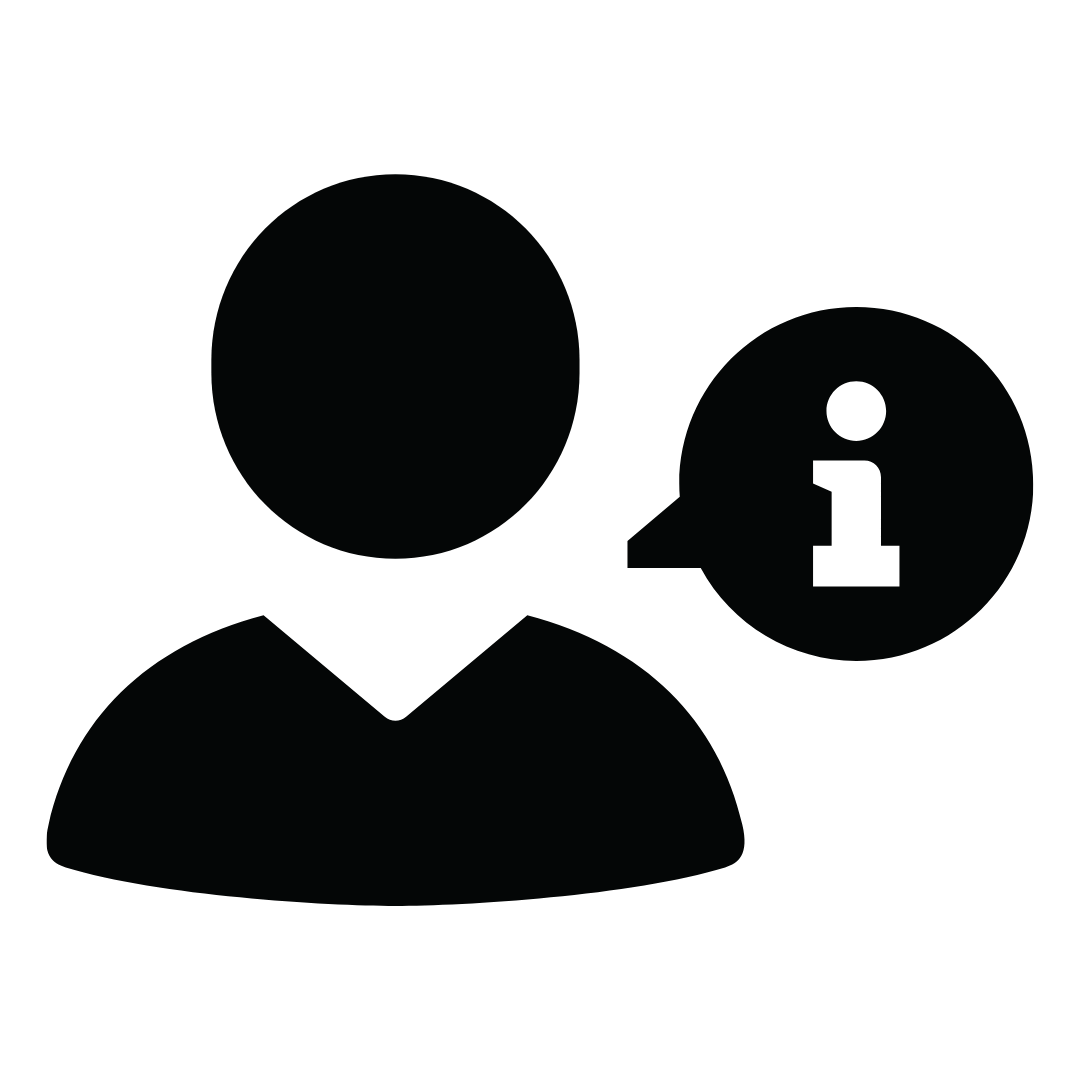 Our customer support is available Monday to Saturday: 9:30 am-6:00 pm.
Average answer time: 5h
Reach out to us